Systematics and Evolution (HA)
C
omputer identification
tool for
Australian flowering
plant families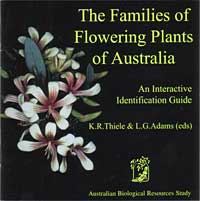 Families of Flowering Plants of Australia: An Interactive Identification Guide (Revised Edition) is an identification and information package for all of the plant families, native and naturalised, in Australia. It enables the user to: quickly and easily identify a plant to family level; learn about Australia's plant families from text descriptions and notes; and view more than 1,500 full-colour photographs or drawings of representative species.
The new browser in this version interface enables quick access to the rich stores of information or to the identification key, using the latest web-integrated Lucid Player.
Features

quick and easy identification of the family to which any plant, whether native or naturalised, from anywhere in Australia or the Australian Island Territories, belongs
full or diagnostic descriptions of Australia's plant families, lists of genera and other notes on all families
easy hyperlinked navigation between related families
an illustrated glossary of terms is provided to assist with use of the guide.