Systematics and Evolution (HA)
C
omputer identification
tool for
Australian
Pea Flowers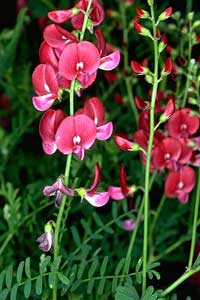 THE PEA KEY: An interactive key for Australian Pea-flowered Legumes
The pea-flowered legumes, the Fabaceae (with more than 1500 species) form an important part of the flora of Australia. The family is currently being treated for the Flora of Australia by a number of researchers, postdoctoral fellows and students from around Australia. Capitalising on that collaborative effort, the legume researchers at the Australian National Herbarium and the Centre for Plant Biodiversity Research initiated and have coordinated this project to build an interactive key to all the pea-flowered legumes of Australia - the Pea Key. A character list developed as the result of a workshop held at the Centre in late 1999, was used by the participants to code ~ 500 species.

With support from the Australian Biological Resources Study (ABRS) during 2000-01 a coordinator scored all the remaining taxa. The overall collaborative effort has enabled the coding of c. 1460 taxa of Australian Peas.
The Pea Key, which was originally conceived as a research tool covering the taxa in the tribes Mirbelieae, Bossiaeeae and Brongniartieae, has evolved into a more extended identification tool to all the pea-flowered legumes of Australia. It is now an identification system, developed using Lucid software, for all Australian native (presumed to be present in Australia prior to 1788) and naturalised (introduced species with self-maintaining 'wild' populations) species and sub-specific taxa. Every effort has been made to include the most up-to-date taxonomic information, although the state of knowledge of many legume genera is rather lacking. When many of the active projects of the Australian Pea-flowered Legume Research Group come to fruition, it is anticipated that these results will be incorporated into the Pea Key.